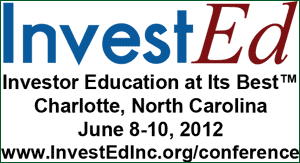 Churr Software is proud to be a Software Partner for InvestEd 2012. We will be on hand with a display that demonstrates the easy-to-use Stock Investment Guide software.
Attending InvestEd, a yearly national investor education conference, is a must-do priority for hundreds of beginning and experienced investors. InvestEd teaches individuals how to build wealth by owning stock in quality growth companies.
Attendees enjoy a first-class experience that includes a wide-ranging curriculum, interesting corporate presentations, a professionally-staffed Computer Lab, an educational and fun-filled Cyber Cafe, great accommodations, and five full-course meals.
Calendar

May 2013
S
M
T
W
T
F
S
« Oct
1
2
3
4
5
6
7
8
9
10
11
12
13
14
15
16
17
18
19
20
21
22
23
24
25
26
27
28
29
30
31

Meta