The Stock Investment Guide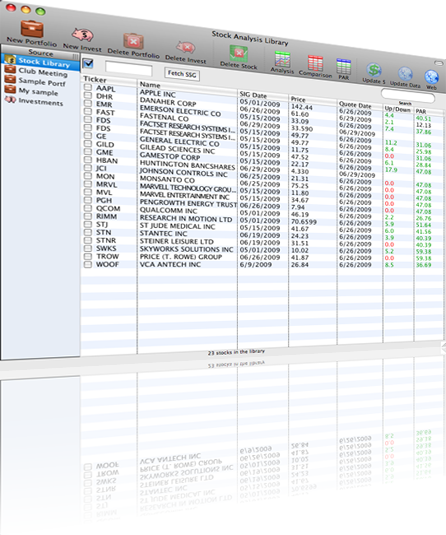 The Stock Investment Guide (SIG)™ is a powerful tool for performing comprehensive fundamental stock analysis of publicly traded companies. The Stock Investment Guide provides users with easy-to-use tools to use historical stock data to analyze historical growth trends, project earnings, and sales, and determine Buy, Hold, and Sell prices.

Increase your confidence as an investor

Understand the value of your stock investments

Increase your awareness of a company's performance

Analyze future earnings prospects for public companies

Determine the Risk-to-Reward potential for stocks

Determine Buy, Hold, and Sell prices for your stock investments

Easily organize your analyses using portfolio lists

Sort your analysis library by risk-reward, growth rate, or yield

A must for the individual investor, stock club member, or professional investor.

Read Testimonials from our customers!

"I checked out your [software], let me tell you that what you
have created is A-M-A-Z-I-N-G."
—
"Thanks for your wonderful program. 🙂 [It is] the center of my investing life :)"
—
"Thank you. I love this software – had saved me few times from pitfalls and bad decisions. Owe you much !"
—
"I love your product. SIG has helped me become very wealthy… Before SIG it took me 2 hours to analyze one stock by hand with NAIC's weird tool and graph paper. Now I can do it in under 60 seconds."
The Stock Investment Guide (SIG) works with the internet in unique ways, using exclusive features to understand the quality of potential investments. Users can view historical price graphs, research company news, research competitors, view SEC filings, get earnings estimates, and research technical analyses on the internet.
Share…
Easily share your analysis results with others using the standard .ssg data file format. You can also import .ssg data files from friends or stock club members to learn more about investing and stock analysis.
Report…
Printing reports with the Stock Investment Guide is even easier. You can print a standard 2-page stock analysis report, a condensed Stock Summary Report (SSR)™, company performance graphs, plus all of the online research data available in SIG.
Portfolio Management…
As you become successful in your investment strategy, your portfolio value continues to grow. Eventually, the value of your portfolio far exceeds the value of any new investments being added to the portfolio. The importance of sound portfolio management increases as the value of your portfolio continues to grow. Churr Software developed the Portfolio Analysis Review (PAR), a software tool integrated into SIG 4.0 to analyze the stocks in your portfolio. Learn more about PAR's great features.
Stock Comparisons…
The Comparison Analysis Review (CAR) software allows users to perform a side-by-side comparison of up to four completed stock analyses. CAR uses SIG's .ssg data files to present four stocks on a single page, where users can highlight the best company based on each factor in the analysis. CAR is now integrated into SIG 3.0.